Synthetic Rooftop AirDrain System installed at the Escuela Campo Alegre School.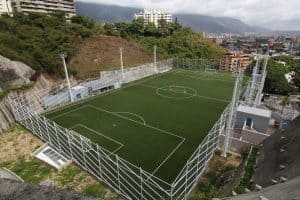 Hello Trey,
I hope these pictures are fine for what you need.
The system works perfectly. It can pour lots of tropical rain and it just disappears immediately.
We are very pleased with the system.
Thank you.
José Miguel Zapata
Facilities Director
Escuela Campo Alegre   
The American International School
Caracas, Venezuela
Escuela Campo Alegre
Fax: +58-212-993-0219
CCS9701 Escuela Campo Alegre
PO Box 025323
Miami, FL 33102-5323
For Synthetic Turf
The consistent Gmax and Shock Attenuation properties of the AirDrain system are major
contributors to the safety of players and the reduction of concussions. Unlike traditional shock
pads or e-layers, AirDrain is 1" high, has 92% air void and 100% vertical drainage. AirDrain
cannot be matched by any other product in the industry.
AirDrain can reduce Gmax by approximately:
 18.9% on a gravel subbase
 14.7% on a concrete subbase
Some of the Benefits of an AirField Synthetic Turf Drainage System include:
• AirDrain creates and helps maintain a constant Gmax for Synthetic Turf
• ASTM testing proves AirDrain's shock absorption properties reduces Gmax
• AirDrain creates a 1″ air void allowing for 100% vertical drainage over the whole installation
• Patented expansion and contraction built into every part which keeps the grid from buckling
• AirDrain is only limited by the drainage capacities of the profile above and the exit drains below
• AirDrain can be reused when the synthetic turf must be replaced