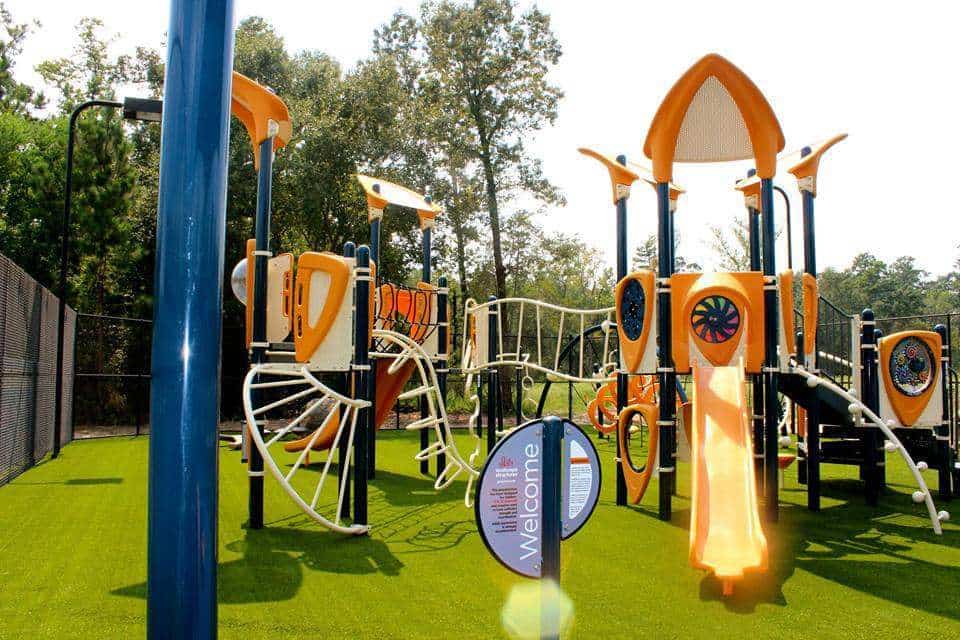 Artificial Grass AirDrain Drainage on Concrete Converting a Tennis Court into a Playground
AirDrain –What drains better than Air?
Artificial Grass AirDrain Playground Drainage on a Concrete or Asphalt Base. Converting a Tennis Court into a Playground

Not all playground drainage is equal! AirDrain cannot be matched by any product in the industry, with its 100% vertical drainage and 92% air is designed to collect and redirect water, actually raising the entire profile 1" higher and bringing gravity into play allowing the area to dry quickly and efficiently.
The result is a more stable surface area, reduced expense for repair materials and more play time.
A playground drainage system should provide a way for water to efficiently drain away from the surface and be directed to the exit drains allowing a shorter turn around time for the continuation of Play.
With the ability to drain 2″ inches per minute on a 1/2% slope the AirDrain Geocell provides drainage unmatched in the industry to allow the surface to be free of water. The AirDrain is only limited by the drainage capacity of the profile above and the exit drains.
The Woodlands Preparatory School converted an unused tennis court into a Artificial Grass Playground using the AirDrain Drainage System. They have enjoyed the using the playground since it's grand opening on 9/29/14.
With the turf lifted 1″ off of the asphalt surface the turf drains so quickly that they have the ability to use the playground immediately after any rain occurrence resulting in more playtime for the children.
The AirDrain Drainage Advantage
AirDrain playground drainage system benefits include:
AirDrain removes all the typical install issues with pads, seems and wrinkling etc. 
AirDrain raises the entire profile 1" off the subbase and bringing gravity into play
AirDrain's 92% air-void space for fast and easy water removal
Consistent HIC and Gmax for the life of the AirDrain providing a safe play area
100% post manufactured industrial recycled content
AirDrain's quick snap connectors allows for effortless installation
Minimal site disturbance, far less excavation and disposal
Compact shipping reducing transportation costs